Conception to Reality, Inc. (CtR) is an engineering and project management company formed in 1994 to provide services on large scale food and beverage packaging initiatives.  We specialize in assisting our clients to cost effectively develop and execute highly successful projects.  Since CtR's inception, our projects have taken us to over 800 job-sites across  US, Canada and Mexico. These projects range in scope and scale; from providing individual project support services to delivering complete Greenfield multi-line manufacturing facilities.
Our team consists of 25+ full and part time, well disciplined, individuals with extensive backgrounds in engineering, project management, CAD drafting, construction management, procurement, project accounting, and technical writing.  Our experienced team utilizes our highly-developed processes and software systems to produce the best possible results for our clients.
We understand the challenges involved with high speed manufacturing and the supportive technologies that are required.  We strive to make sure that our people have in-depth knowledge of the well-established and newly emerging technologies.  We have helped many clients successfully troubleshoot problems with their machinery, manufacturing processes, and utility support systems.
Our Clients

We have had a long running relationship with Pepsico and have completed many projects for their various divisions and franchisees.  These food and beverage divisions include; Pepsi Beverages Company, Pepsi Americas Beverages, QTG (Quaker, Tropicana, Gatorade), Pepsi Bottling Ventures, Wispak, Pepsi Northwest Beverages and others.
We have also completed projects for DFA, CCR, Adirondack Beverages, Fiji Waters, Diageo, New Belgium, World's Finest Chocolate, Dr. Pepper/Seven-Up,Inc., ICI Paints, CVS Pharmacies, Gallo Wineries, Gambro Healthcare, Prestone Products, and the Perrier Group of America.
In addition to supporting corporate engineering departments we have sub-contracted our engineering, project management, and construction management services to original equipment manufacturers (OEM's), construction companies, and others who are seeking to build a strong project team. Our clients have typically realized a substantial cost savings when utilizing our services.  We have combined our highly efficient processes and low operating overhead to offer our clients one of the lowest fee structures in the industry.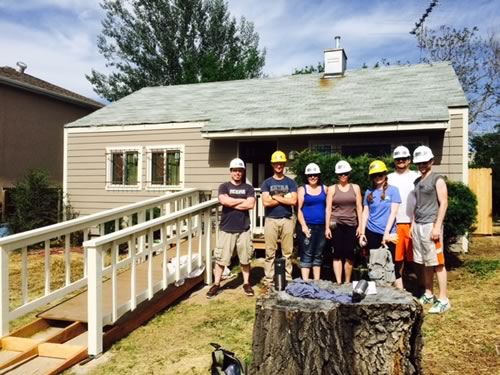 Conception to Reality, Inc. is proud to be working with Habitat for Humanity in Denver, Colorado.